Podcast recording and production is our specialty.
Splashed with fresh, and inspiring original music, we've had the privilege of creating hundreds of professionally produced podcast shows, audio articles and ads for many businesses and associations just like yours!
>>>
Click on images to listen to some of our work with these awesome clients ->

Estes Park Pie Shop & Diner

 Rocky Mountain Health Club


Real West Old Time Portraits 

Stair Solutions, USA

Filter Press Publishing

Estes Valley Library

Longs Peak Scottish-Irish Highlands Festival




**

Vacationland

***
The Egg & I
McDonalds & more!
What Makes Podcasting So Special?
With today's technology, and the option of interviewing and recording on site and producing the shows in our studio, we can offer you the power and magic no other digital media format can.
Sending entertaining and compelling messages (a.k.a. fresh content), while educating your niche market about your business is what it is all about.  The best part is that podcasting can help you communicate your passion, purpose and personality in your own voice, and not just the written word.
There is something powerful and intimate about your message being spoken through your voice directly into someone's ear through their headphones.  They begin to feel like they know and trust you, and have established a relationship with you.
Finally, podcasting can help position your company as a thought leader in your particular industry.  Just having your own personalized podcast says that your company cares and is on the cutting edge.  Your shows may produce a buzz in the market and can even help spark interest in news media coverage.
***
We are also passionate about producing our own shows highlighting the beauty and wonder of Nature & Mindfulness, as well as local sites, Estes Park, Rocky Mountain National Park and Colorado's Rocky Mountains.
***
You can learn more about them here!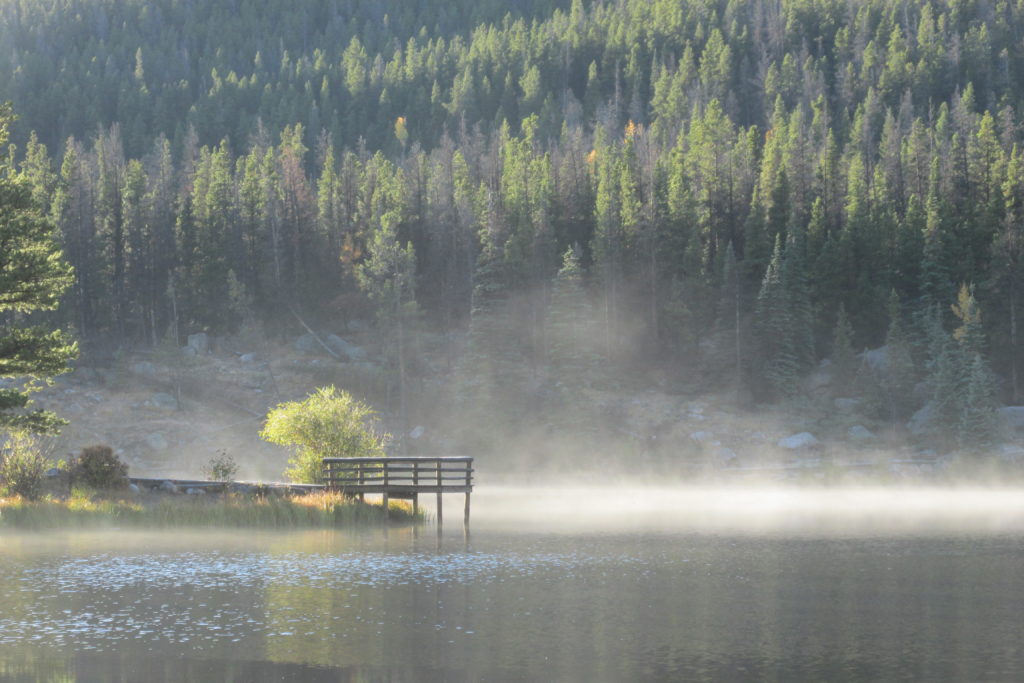 The Mountain Zen Den blog & podcast is the place to connect with Nature for Self-Development and Simple Living through the beauty and benefits of the Natural World ~ naturally!
Mountain Town West is Estes Park, Colorado, up close & personal – online and in a podcast*. It's everything you want to know about Estes Park & Rocky Mountain National Park.
– Current happenings and Vacation planning tips of things to see & do
– Outdoor adventures and wildlife viewing
– Fascinating stories of the history and people who have helped shape and preserve this bit of paradise on Earth.
*For the uninitiated, podcasts are much like radio shows, but they are downloaded directly to your iPod or smartphone for listening whenever you'd like.
For a wonderful taste of life in the glorious mountains, listen to the Mountain Town West podcast, now available on 7522Radio.com.  Subscribe in iTunes and Stitcher Radio.
Explore, Discover and Experience this majestic mountain village and Rocky Mountain National Park through inspiring Stories, Music, Soundscapes, and other Creative Media.
Do you love or long for the mountains?
Ever wondered what it would be like to visit or live among some of the highest peaks in one of the most beautiful places on the planet?
Welcome to Mountain Town West, featuring life in the beautiful mountain village of Estes Park, Colorado – the getaway gateway to the Rocky Mountain National Park.  Here you'll hear intimate interviews and inspiring stories of real life high in a mountain town… Be there!
You'll also discover fun things to do, trails to hike, places to explore, fascinating history, and experiences to be had in the mountains.  Enjoy personal time spent in shops with small business owners, and eavesdrop on down-to-earth heart-felt stories of folks who have chosen to live in and with altitude…
Alluring audio with altitude in your pocket and on your dashboard…
 Listen to Episode 1 – "Welcome to Mountain Town West"
"Life in the Rocky"

Podcast
"Life in the Rocky" ~ Tales of wilderness, wildlife and wonder in the Rocky Mountain National Park.
Imagine a place where members and guests can come daily to experience Rocky's wilderness, wildlife and wondrous beauty without ever having to set foot in the park!
These days there is so much noise, clutter and confusion in our lives, it's easy to lose a sense of the wonder and beauty of the world around us.
With the amazing technology we now have at our fingertips (literally), it's time we created a way to experience a daily mountain retreat for the purpose of renewal and restoration, while teaching us the lessons the natural world has to offer.
Introducing an informative podcast that doubles as a personal mini-retreat, and serves as the voice of the National Park's wildlife to the world.
"Life in the Rocky" ~ This 5-minute daily podcast, highlighting life in the crown jewel of the National Park System, will be a favorite of young and old alike.  Both entertaining and educational, these shows are designed to transport listeners out of the "Rat Race" and return them to the simplicity, beauty and tranquility of nature and the mountains.
Our Mission: 
"Life in the Rocky" inspires, educates and motivates listeners to understand and improve our world by sharing exceptional experiences, stories, ideas and information found in the natural world of the RMNP, while restoring a profound sense of peace and relaxation.
Featuring –
~ Fascinating stories from the Park – its' history, people, and critters.
~ Life-lessons and observations from a naturalist's perspective.
~ Insightful, thought-provoking interviews with Naturalists, Park Rangers
and visitors to the Rocky.
~ Thoughts, facts, information and updates on the Park and how the listener
can be a partner in promoting not only the well-being of the RMNP but the
world at large.
All of this with the side benefit of providing much-needed stress relief, through a meditative-like process which can even help lower blood pressure, and give a new sense of energy to meet the day's challenges head-on!
Try it and see for yourself…
>Listen to Episode 1 – "A Home in the Sky"
You can also find us on the Enjoy Estes Park Podcast Network at www.estesparkpodcast.com or 7522Radio.com